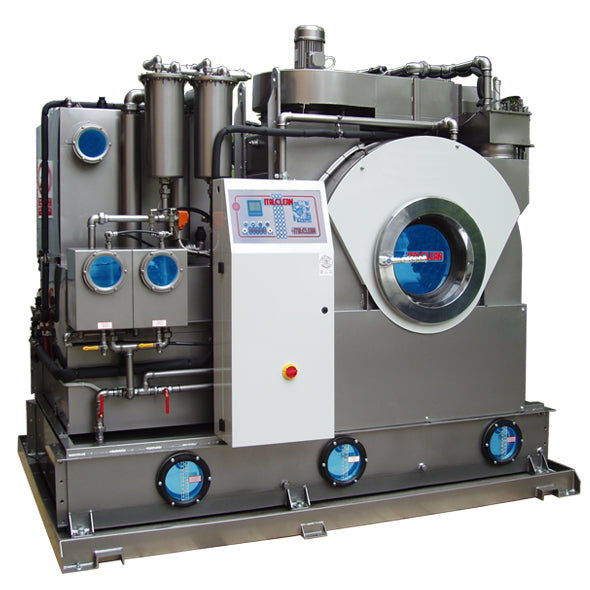 Italclean Premium 900/1500 Perc Dry Cleaning Machine 42-80 KG
UP TO 25% FUTHER DISCOUNT AVALIABLE
Are You A New Or Registered Dry Cleaner/Launderette?
Call Now On 01753685181 or Click The Get In Touch Button
 To Check If Your Business Is Eligible For Further Discounts.
Finance Available
The PREMIUM 900 and 1500 are industrial machines for customers who have to process huge quantities of garments. They are available in the 3 tanks versions with capacities ranking from 45 to 80 Kg.
Our drycleaning machines are equipped with a few standard features:
-Electric or steam heating
-Closed circuit with Copeland Scroll refrigerator (the most silent and efficient in the Market) and heating pump
-1 or 2 self cleaning nylon discs filter
-Double air filter
-Automatic self cleaning tanks of high capacity
-Inverter (basket rotating speed tuner)
-Still, button trap, air channel, separator and filters housing in stainless steel
-Button trap automatic drying
-Thermal overload relays on all motors
-Still float switch level control
-3 Danfoss valves for saving water
MODEL
PREMIUM
900
1500
LOAD CAPACITY
kg
lb
42 / 45
90 / 95
80
176
DRUM
Volume
lt
800
1530
Extract Speed 1/2
rpm
380
320
Installed Power
kw
14
21
TANKS
1' tank
lt
250
560
2' tank
lt
250
560
3' tank
lt
350
950
STILL
Still 1 capacity
lt
420
620
Still 2 capacity
lt
530
550
OVERALL DIMENSIONS
Width
mm
2740
3330
Depth
mm
2000
2350
Height
mm
2530
3200
Weight
kg
lbs
3500
7700
5600
12320