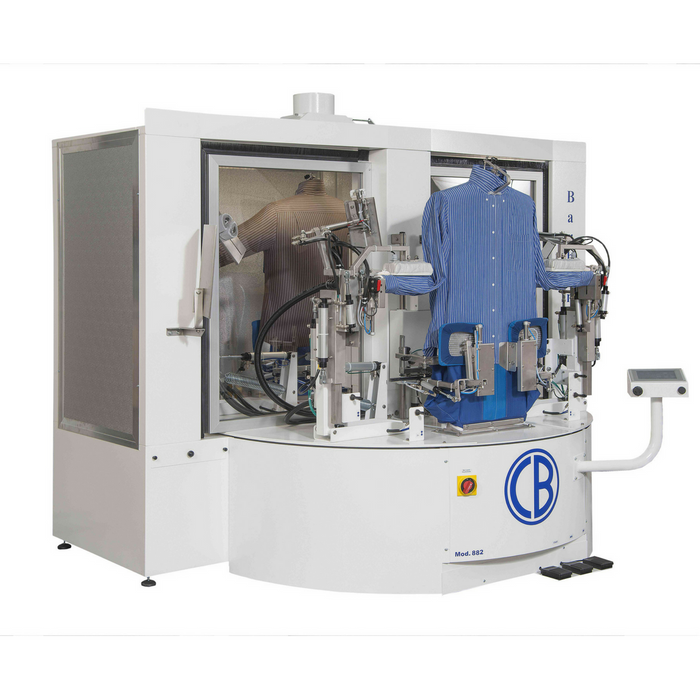 Barbanti 882 Double Shirt Finisher
UP TO 25% FUTHER DISCOUNT AVALIABLE
Are You A New Or Registered Dry Cleaner/Launderette?
Call Now On 0330 1331698 or Click The Get In Touch Button
 To Check If Your Business Is Eligible For Further Discounts.
Finance Available
Double Shirt Finisher 882
Model 882 is the double-buck version of our shirt finisher. This unique machine stands out for the high hourly productivity
achievable with one operator, the perfect finishing quality
and the high energy saving; moreover, the innovative technologies applied on this new model have brought further improvements, with consequent various advantages, both from an economic and from an operational point of view.
The simple garment positioning operations and the machine ease of use ensure the achievement of excellent results from the beginning, even without qualified staff. Moreover, thanks to the closed structure, the finishing cycle takes place inside, making the workspace healthier and more pleasant, and enabling the recycling and reuse of hot air, which is reintroduced into the finishing cycle, thus reducing the energy consumption and increasing the productivity.
The operator can adjust the position of the sleeves even during the finishing cycle, thanks to the handy joysticks and the excellent internal visibility, given by LED lights.
New Barbanti Touch Screen Computer, with user-friendly and straightforward software, with multiple combinations for the control of functions, piece counter, customizable programs, statistics, fault diagnostic, transmission of machine data, production and productivity, set-up for stand-by function.