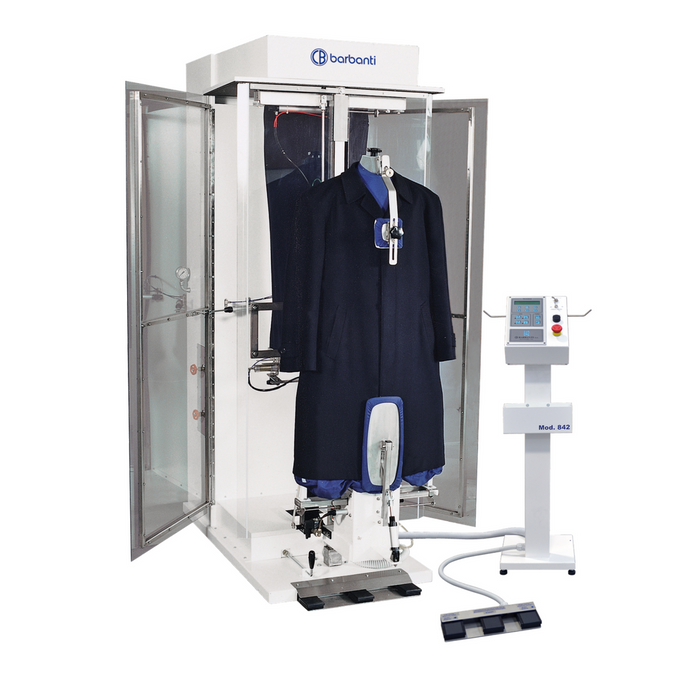 Barbanti 842 Combined Unit
UP TO 25% FUTHER DISCOUNT AVALIABLE
Are You A New Or Registered Dry Cleaner/Launderette?
Call Now On
0330 1331698

 or Click The Get In Touch Button
 To Check If Your Business Is Eligible For Further Discounts.
Finance Available
Combined unit 842
Compact, ecological, high-performing.
Designed and manufactured to combine a new concept of form finisher and a trouser topper in a single machine.
The innovative form finisher, suitable for any kind of men's and ladies' jackets and coats, offers the advantage of a vertical garment tension, produced by the bust movement (operated by hydraulic cylinder), for perfect finishing results. The opening and the tensioning function of the side expanders are pneumatically adjustable.
The control panel enables to store 9 finishing programmes, to set the finishing times, to switch off unnecessary functions and to step in manually, according to the finishing requirements.
The trouser topper waist-tensioning device lowers to facilitate proper garment loading, and goes up again at the beginning of the finishing programme, to prevent any steam or air dispersion.
The only Combined Unit with steam and air output from the bottom for the form finisher, and from the top for the trouser topper.
Compact and user-friendly machine, for surprisingly good finishing results with no need for qualified staff.
The unit is available either self contained, with 18-litre built-in boiler, or for connection to steam supply.
A not negligible advantage is given by the fact that this is an ecologically advanced machine; in fact, during the steam and air phase, the doors close and a powerful aspirator draws the steam from the inside and leads it outside, freeing the working area from the humidity usually produced by common finishing machines.