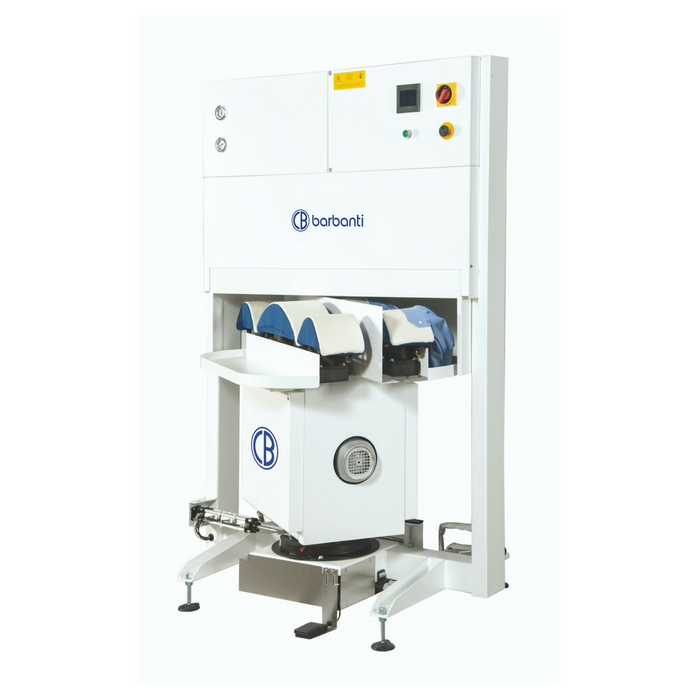 Barbanti 551 Collar & Cuff Press
UP TO 25% FUTHER DISCOUNT AVALIABLE
Are You A New Or Registered Dry Cleaner/Launderette?
Call Now On 0330 1331698 or Click The Get In Touch Button
 To Check If Your Business Is Eligible For Further Discounts.
Finance Available
SHIRT FINISHERS 483-488
Model 483 represents a further improvement of our shirt finisher; it is meant to perfectly finish both wet and dry shirts, with no need for touch-ups, ensuring high productivity and considerable energy saving. The tensioning carriage for automatic detection of shirt height, the pneumatic clamps and the heated front blade enable to fix shirts correctly and easily. All clamping and tensioning operations are adjustable, according to fabric quality. An easy-to-operate electronic control panel allows to set finishing times and switch functions on and off, according to need. The counter on the control panel enables to check the daily production. Customers can personalize their machine, choosing among several types of sleeve clamps and several busts (men's, women's and children's), or including the automatic unloader. Model 483 can also be equipped with:
●  energy saving device, to recycle hot air and reintroduce it into the finishing cycle, with conspicuous advantages for the operator, such as:
• over 25% reduction in energy consumption;
• reduced amount of hot air in the work place:
• warmer drying air, with consequent reduction in finishing times and increase in production;
●  heated plate for fast drying of the shoulder area;
●  two heated plates for fast drying of the cuff vents.
Model 488 is the electrically heated version and is meant for the finishing of wet shirts only.
Dummies are available in different sizes, for man, woman and child; they are equipped with adjustable shoulders to be able to iron shirts of every model and size. Dummies are available with or without collar blade, to iron buttoned up shirts already positioned on the coathanger.
Available optional extras:
• Joysticks for sleeve arm height adjustment
• Double clamps for long and short sleeves
• Spare bust (men's, ladies', children's sizes, etc.)
• Shirt-folding table
• Shirt stand