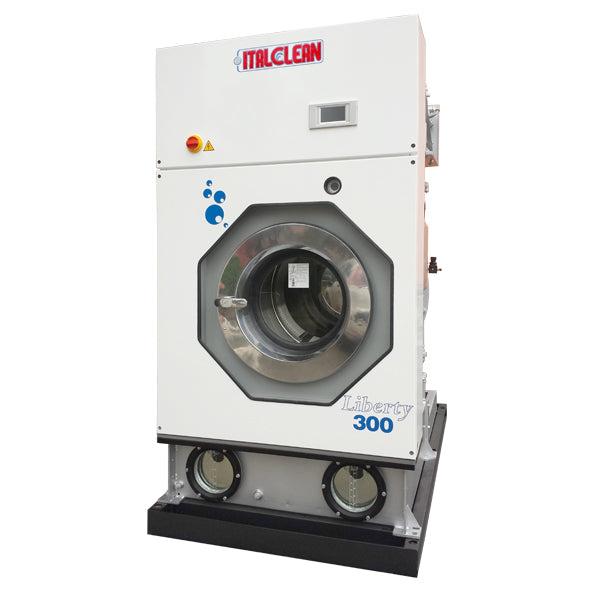 Italclean Liberty Perc Dry Cleaning Machine 8-19 KG
UP TO 25% FUTHER DISCOUNT AVALIABLE
Are You A New Or Registered Dry Cleaner/Launderette?
Call Now On 01753685181 or Click The Get In Touch Button
 To Check If Your Business Is Eligible For Further Discounts.
Finance Available
LIBERTY
The new Liberty "Slim Line" machine was designed for customers who operate in limited spaces. Having only 1,10 meters of width, this is a compact professional machine perfect to be installed in small areas, granting effectiveness and flexibility.  Ideal for hotels and shops, it is functional even in difficult situations, as it can wash over 20 kg/hour (Liberty 360) with high quality results. Also available with Activa – activated carbons recovery unit!
Our drycleaning machines are equipped with a few standard features:
-Electric or steam heating
-Closed circuit with Copeland Scroll refrigerator (the most silent and efficient in the Market) and heating pump
-1 or 2 self cleaning nylon discs filter
-Double air filter
-Automatic self cleaning tanks of high capacity
-Inverter (basket rotating speed tuner)
-Still, button trap, air channel, separator and filters housing in stainless steel
-Button trap automatic drying
-Thermal overload relays on all motors
-Still float switch level control
-3 Danfoss valves for saving water
MODEL
LIBERTY
160
200
300
360
BASKET CAPACITY
kg
lb
8
17
10
22
15
33
19
42
BASKET
Volume
lt
160
200
300
360
TANKS
Tank n'1
lt
134
134
134
134
Tank n'2
lt
78
78
78
78
CAPACITY
Distillator
lt
95
95
95
95
DIMENSIONS
Front
mm
1080
1080
1080
1080
Length
mm
2207
2207
2207
2207
Height
mm
1970
1970
1970
1970
WEIGHT
Empty machine
kg
lb
820
1810
950
2095
990
2180
1040
2295
With solvent
kg
lb
1150
2535
1290
2845
1330
2930

1450
3200